AUDUSD 0.7602/ Copper 2.65 / CADUSD 0.7769
Recap:
In the Jun'17 report (AUDUSD was 0.7523) we had kept our bullish stance for Aussie intact while waiting for confirmation on a break above 0.7750-0.7850.
EXECUTIVE SUMMARY: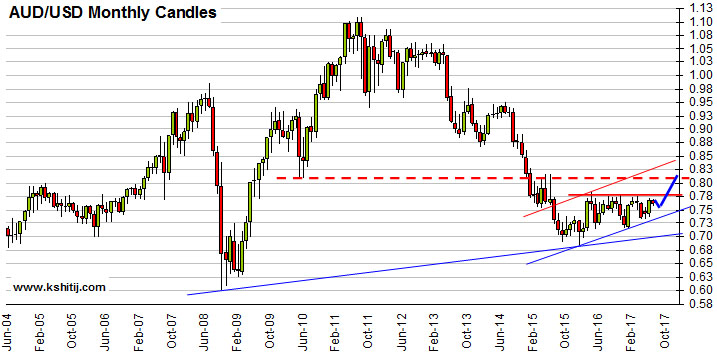 We remain bullish on Aussie but expect a dip in July, to be followed by resumption in the uptrend thereafter towards 0.80. A break above 0.7750-0.7850 has not materialized yet and remains an important level to be kept an eye on. An actual breakout may occur in August or September as mentioned in our June report also.
Aussie Monthly Chart
Aussie indeed rose in June in line with our expectations and has come up to test the near term resistance zone of 0.7750-0.7850. Clear contraction in price movement is visible from the chart above since Dec'15 and is probably nearing exhaustion within July or August. We expect a short-lived dip to 0.75 or slightly lower in July, to be followed by a sharp break above 0.78 over August and September, along the path shown by blue line on the chart above, heading towards 0.80.


Quarterly Projections

CAD/USD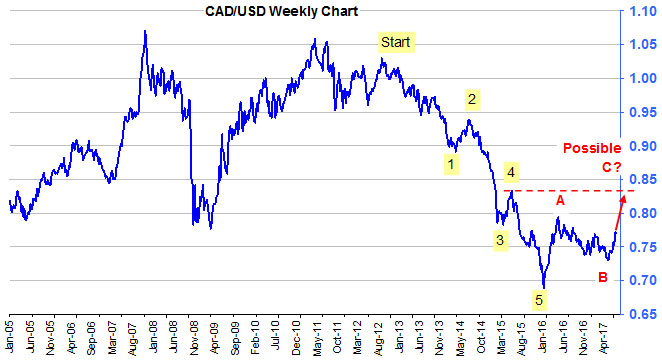 CAD/USD strengthened in June (from 1.2947 to 1.3547), contrary to our expectation of a further fall and could continue to rise over July and August. In the chart above, we have broken up the fall from 1.029 in Sep'12 to 0.688 in Jan'16 into 5-waves (as per the Elliot wave principle), which is being followed by an "A-B-C" correction that may possibly end near 0.84. Wave "C" is assumed to be playing out currently which could extend to 0.84 on the upside over the next few weeks indicating bullishness for the near term. This could indicate strength in Aussie too towards 0.80.
COPPER: Bullish
We have been following Copper for the last few months and it has been beautifully holding above 2.5 since Dec'16. We may now expect a rise towards 2.80-3.00 in the coming months.

It has moved up well in June from 2.5155 to 2.71 in line with our expectation and could be headed towards 2.80-3.00 over July and August. This could also boost the rise in CAD and Aussie, both being commodity currencies.

Conclusion
Close directional correlation between CAD, Copper and Aussie, continues to exist. A rise in Copper and CAD is supportive of a possible rise in Aussie mentioned in the previous page. Mild correction to 0.75 in July followed by a rise in August towards 0.78 is the preferred path for Aussie.