7-September-17 / Euro 1.19796
RECAP
In our August '17 forecast (Euro was 1.1772) we called for a rise to 1.2050 this quarter and to 1.2250 in the following 6 months. The actual high in August has been 1.2070, just a little higher than our target of 1.2050.
EXECUTIVE SUMMARY
The Euro uptrend and longer term target of 1.2250 remain intact. There may/ may not be a correction down to 1.17-16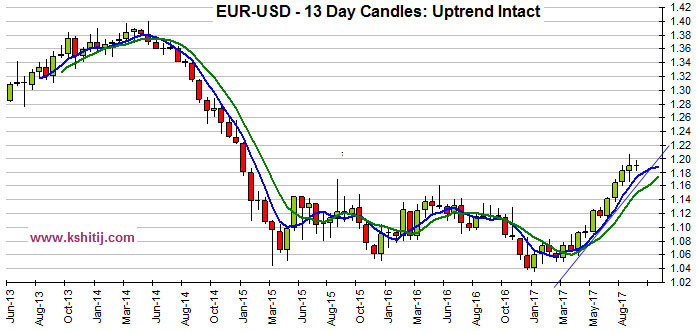 The uptrend since the Jan '17 low of 1.0340 remains intact. Supports are seen near 1.18, 1.17 and 1.16. Deeper down, even 1.15 is a strong and credible Support. The Euro might/ might not see a dip to test these Supports. It is difficult to say. However, the important point is that while these Supports hold, which is quite likely, the longer term target of 1.2250 remains intact.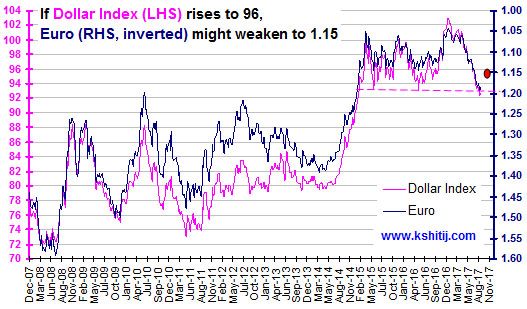 EURO: POSSIBLE PATH
The path of the Euro (RHS, inverted scale) has been closely entwined with that of the Dollar Index (LHS), as seen in the chart alongside.
The rise in the Euro from 1.0340 to 1.2070 has been accompanied by a fall in the Dollar Index from 103.56 (Dec '16) to 92.30 now.
Technically, there is some chance that the Dollar Index could see a corrective bounce from levels near 91.40 towards 95-96 (see red dot in the chart) in the next couple of months. If that happens, the Euro could see a dip towards 1.16-15 also, before it again embarks on its longer term rise towards 1.2250.
EURO DEPENDENT ON ECB
Movement in the Euro is going to depend on what the ECB says today.
We suspect that the ECB might dither on when it is going to start winding down (or tapering) its asset purchases, then the Euro could weaken towards 1.18 and 1.17.
The reasons are (a) although economic data is good, inflation (European CPI is 1.32%) is lower than 2% (b) the US Federal Reserve does not seem to be in a great hurry to raise interest rates and (c) the Euro is very strong for now.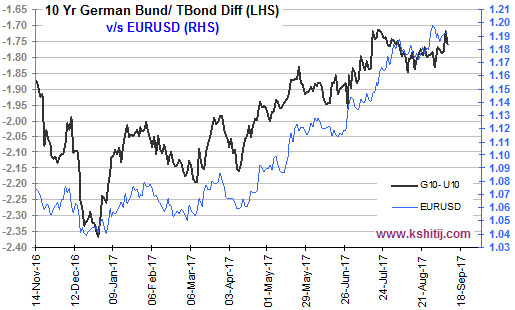 GERMAN-US YIELD SPREAD
The Euro has been rising from 1.0340 in Jan '17 along with the rise in the Germany – USA 10Yr Bund/ Bond yield spread (currently -1.76%), from levels near -2.37% to as high as -1.72% recently.
Since April, however, the Germany – USA 2Yr Bund/ Bond yield spread (currently -2.06%, not pictured here) has been ranging sideways between -2.10% and -1.90% and has not been responsible for the strength in the Euro.
Therefore, going forward, further immediate gains in the Euro will be dependent on the Germany – USA 10Yr Bund/ Bond yield spread rising past -1.70%. Please see below.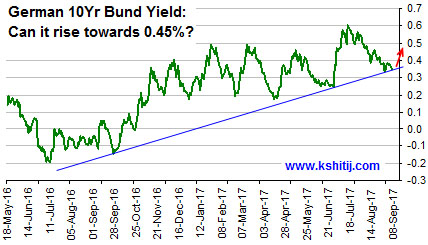 GERMAN 10Yr BUND YIELD: CAN IT RISE TOWARDS 0.45%?
The chart of the German 10Yr Bund Yield (0.348%) shown alongside is in an overall uptrend since -0.2% in June 2016. A high of 0.576% was seen on 17-Jul-17, from where a dip back down to 0.35% has been seen.
There is decent trendline Support near the current level. If this holds, the 10Yr Bund Yield could rise towards 0.45% or higher.
If so, it could pull the German-US 10Yr Yield Spread above -1.70% and thereby pull the Euro up as well, past 1.20.
QUARTERLY PROJECTIONS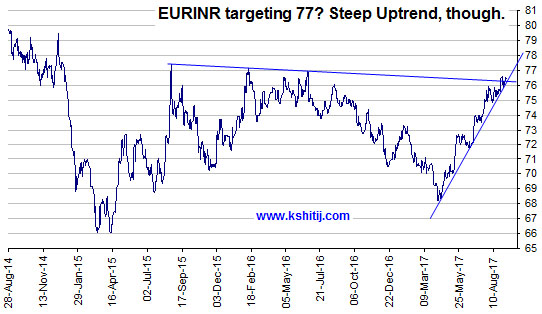 EURO-RUPEE: CAN TARGET 77, EVEN 78
 With the Dollar Index and the German 10Yr yield facing support below current levels (as already shown above), the preference for a stronger Euro is a possibility in the coming months.

In line with the Euro strength in the last couple of months EURINR has also risen and has been trading at long term resistance levels. Current levels are crucial. 77 or even 78 could be a possible target in the near term.
Stability or a slight rise in Euro could lead to a rise in EURINR towards 77-78 but we do not consider a rise past 78 just now. A rejection from 77-78 looks more likely after the sharp rally seen since March'17.  
CONCLUSION
Keeping the upside long term target of 1.2250 intact we may possibly see a test of 1.17-1.16 in Euro in the coming weeks. Overall some stability could be expected over the next 2-3 months at the least between 1.2250 and 1.1600.