AUDUSD 0.7928/ Copper 2.888 / CADUSD 0.7908/ AUDINR 50.467
Recap:
In the Jul'17 report when AUDUSD was 0.7602, we had expected a dip towards 0.75 in July followed by a sharp rise towards 0.78-0.80 in August. An actual break out above the major resistance of 0.78 was expected over August and September.
EXECUTIVE SUMMARY:
Aussie rose sharply in July itself testing the target of 0.80 much faster than expected, instead of dipping to 0.75 first. The break out on the upside has been triggered by an already rising CADUSD as seen in our July report. The initial rise in CAD in June has lead to a sharp rise in Aussie and Copper in July. We expect the rally to continue for the next few months.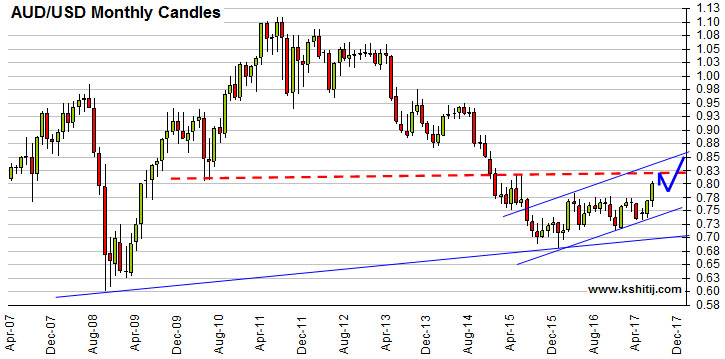 Aussie Monthly Chart
Our Aug-Sep'17 target of 0.80 has been met in July itself and the price could now gather momentum over the next couple of months to move higher towards 0.83-0.85 levels. The rise above 0.78-0.80 seems to be a significant break out signaling a sharp upward rally for the medium term, with Support seen near 0.78-0.77 now.


Quarterly Projections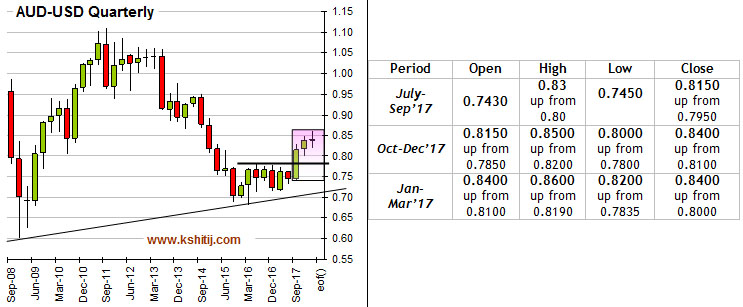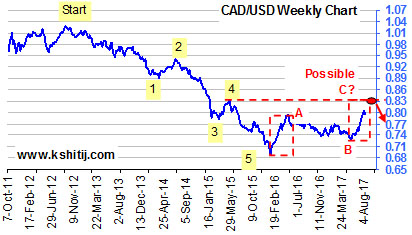 CAD/USD
The strength in the Canadian Dollar has played out well in July from levels near 0.7714. As mentioned in our July report, the price is trading in its last phase of the A-B-C corrective move of the entire fall from levels near 1.04 in Sep'12. We could possibly see a rejection from levels near 0.83 towards 0.77 which could be tested in August.
Note that 0.83 is a crucial resistance, last seen in May'15 and could act as a decent resistance in the coming months.
Copper & AUDUSD: Weekly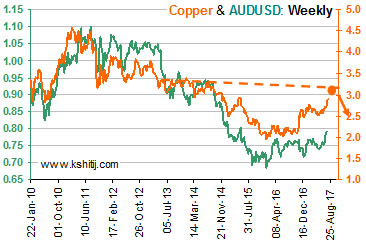 Copper finally broke above the important interim resistance near 2.75 in July to head towards our initial target of 2.78. Now we could see the rally to continue towards crucial resistance zone of 3.00-3.25 from where a rejection seems more likely.
Aussie has been rising in line with the rise in Copper and the Canadian Dollar. While Copper continues its rise towards 3.25, Aussie could move up towards 0.83 before seeing a dip back towards 0.80.
AUD/INR-Weekly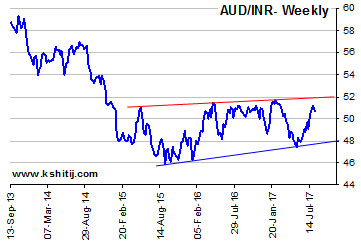 AUD/INR (50.766) has an important resistance near 52 which is likely to hold for the medium term. The currency pair has been trading below 52 since 2015 and while that holds, we could possibly see a pull back towards 50.

Although the AUD/USD chart by itself looks strong just now, but unless AUD/INR breaks above 52, the Indian Rupee is likely to remain strong against the Aussie in the coming months. Only a break above 52 (on AUDINR), if seen would force us to revise our current view.
Conclusion
Aussie has opened up upside levels of 0.83 after breaking above important resistance near 0.78. There could be some initial rejection from levels near 0.83, possibly in August which could lead to a corrective dip towards 0.80-0.79 levels before actually moving up towards 0.85 in September.