12-Sep-17
Yen 109.32/ Gold 1326.44/ US-Japan 10Yr yield spread 2.06%

RECAP
We had two alternatives in our August report when USDJPY was 110.68: (1) Dollar-Yen breaks below 109.50 and sets up a sharp fall 107-105 or (2) Dollar-Yen bounces towards 113.00. Within these, we had a preference for the upside. However, the market has chosen to break below 109.50 and has come down, making a low of 108.27 in August, on the back of a sharp fall in the Dollar Index towards 92.50-92.00.

EXECUTIVE SUMMARY
Dollar-Yen has fair chances of trading within 106-110 region in September. A maximum downside of 106 seems possible from where a bounce back towards 115 could play out in the next 1-2 quarters. There is scope of range trade between the broad 115-106 region for another 2-quarter and till then it would be difficult to take a preference of a break on either side of the mentioned range.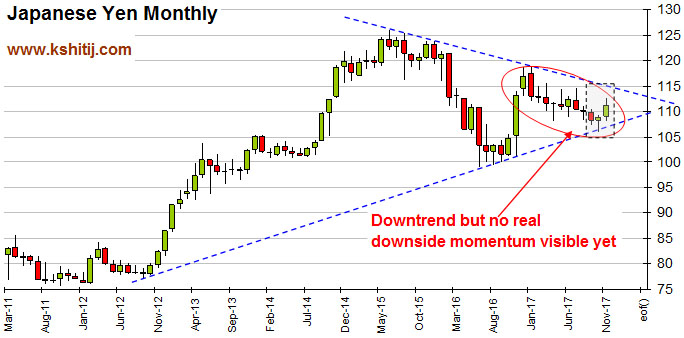 Dollar-Yen has whipsawed between 108 and 115 in the past 6-months spending most of the time in the 110.00-112.50 region. As the chart above shows, there is scope for the current sideways consolidation to continue for another 4-5 months between the broad 115-106 region. Hence, we would have to wait for a confirmed break on either side of the mentioned range triggered by a surge in volatility to get some directional clarity for the coming quarters. For now, we look for range trade between 113 and 106 till at least November'17.
RESISTANCE IN GOLD MAY WEAKEN YEN

Strong correlation between Gold (LHS) and USDJPY (inverted, RHS) is visible in the chart alongside. Gold is trading near interim resistance near 1350. There is scope of testing 1375 on the upside before coming off from there. In case, Gold rises towards 1375 as expected, Yen could strengthen towards 107 in September itself.

Else, if Gold comes off sharply from 1350 to levels near 1300 or lower, Yen could move back towards 111-112.

Overall the broad 113-106 region may continue to prevail till at least Nov '17.
US-JAPAN YIELD SPREAD FALLING
 The US-Japan 10Yr Yield Spread (2.09%, LHS on chart alongside) has been falling from levels near 2.31% since July'17 and has continued to fall further in August contrary to our expectation of a rise towards 2.30%.  After breaking the immediate support near 2.15%, the Spread is headed towards 2.05-2.00% or even lower in the coming weeks.
Overall the yield spread looks bearish towards 1.9% over September and October. This is overall bearish for Dollar-Yen, suggesting a target of 106.
NIKKEI: RESISTANCE AT 21000
The Nikkei has a strong, long term Resistance near 21000 which suggests chances of a sharp fall towards 19000-18000 in the coming quarters or at least a ranged movement within 18000-20000 region.  Given the close relation of Nikkei with Dollar-Yen, if Nikkei falls, Dollar-Yen may not find much scope of rising higher in the coming months.

Although we are not projecting levels below 106 for now, looking at the possible downside in Nikkei we have to be cautious about a break below 106 in Dollar-Yen in the coming months.

QUARTERLY PROJECTIONS

JPY/INR TO REMAIN RANGED BETWEEN 0.55-0.59
JPY/INR has risen sharply to test medium term resistance levels near 0.5950 in line with our expectation of a rise mentioned in our Aug report. A sharp rejection back towards 0.58 is possible from 0.5950 this month. In that case the medium term down channel would continue to hold in the months to come, with chances of a fall to 0.55 also.
We would like to keep open some chances of a break above 0.5950 which if seen could take the currency pair to 0.6050 and even higher towards 0.62.
CONCLUSION
Dollar-Yen could test 106 on the downside over Sep-Oct'17 before moving up towards 112-113 again. Overall 106-115 region is likely to continue for the next 3-6 months.  Our alternative view of Yen strength given in the July report is playing out well where we had mentioned that a fall below 109 could open up possibility of testing 107-105 for the medium term. We stick to this view for now but wait for confirmation below 106 to look at levels near 105.