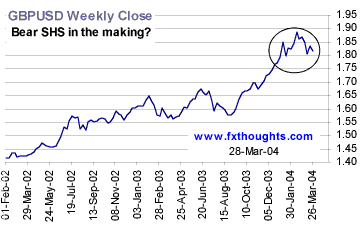 FOLLOW UP - Bear SHS in Sterling?
In the last issue we had pointed out a three decade old Downtrend Resistance on the GBPUSD Monthly chart, which presaged weakness in GBPUSD. Technical Analysis is based on the assumption that ALL factors governing Price are in the Price itself and we can predict Price movements through the study of Charts. This assumption seems to be proving correct yet again. The Sterling seems to be developing a Bearish Shoulder Head on the Weekly chart (shown alongside), confirming the prognosis of the monthly chart.
If this works, Cable can fall to 1.73-1.70 over the next 4-8 weeks Negation would need a Week Close above 1.8589, as compared to the current level of 1.8158.