02-May-16 / Brent 45.91 / USDINR 66.44
EXECUTIVE SUMMARY:
Contrary to the popular notion, data shows that Rupee & Brent Crude move mostly in a similar direction and not opposite to each other. This means, a fall in Brent does not lead to Rupee appreciation. Rather, the Rupee tends to gain when the Brent rises. The logic is probably that a rise in Brent is symptomatic of an increase in economic activity, which fuels growth and leads to a rise in Equity markets. That, in turn, attracts FII investments, leading to Rupee strength in the process.
This study highlights the counter-intuitive but highly correlated movement of Brent and the Rupee.
Note: In all the charts, Dollar-Rupee is shown in an inverse scale, on the right hand side of the chart.
The first chart shows the period from 2011 till date. As can be seen, there is a broad positive correlation between the fall in Brent over the years and the weakness in the Rupee over this period. The rest of the charts that follow show the numbered periods in greater detail, except for the period 2, when Brent and Rupee moved in opposite directions.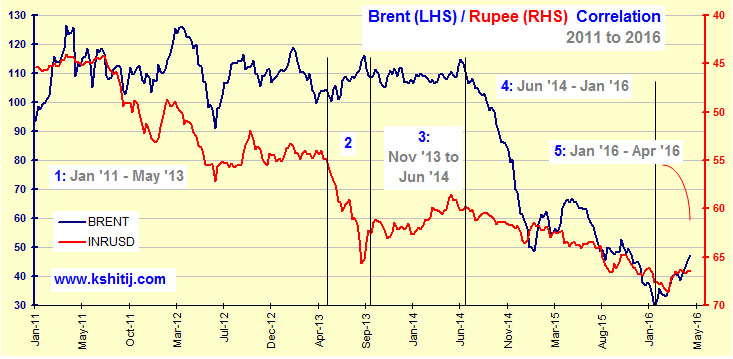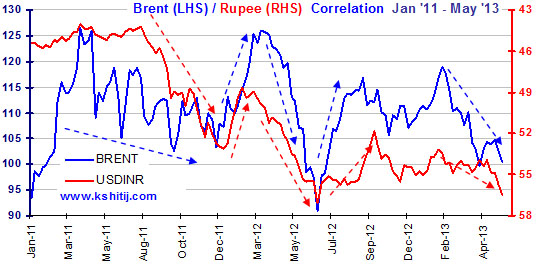 1: Jan '11–May '13 

In this 16-month period, multiple instances of movement in the same direction are seen (marked by arrows).
Major tops and bottoms also took place almost at the same time.
3. Nov '13–Jun '14

Brent soared by 6.98% & Rupee gained 2.68%.

4. Jun '14–Jan '16

Brent lost a massive 65.58% and Rupee lost15.83%.
5. Jan '16–Apr '16
Initially, Brent and Rupee weakened along with each other. Later, from February, Brent gained from 33 to 47, while the Rupee gained from 68.75 to 66.00.

The directional synchronicity of the last few months is clearly visible on this chart also. The bottom in Brent has been reflected in gains in the Rupee also as once again the movements of Rupee and Brent have been in the same direction.
CONCLUSION:
Over the last few years, global investment sentiment has tended to oscillate quite often with the price of Brent. An appreciation in the price of Brent triggers a risk-on approach, flooding all emerging markets including India with liquidity, making the Rupee strong against the Dollar.
This kind of uncommon counter-intuitive studies and insights are what make our analysis and forecasts a little more worthy of our discerning Clients.