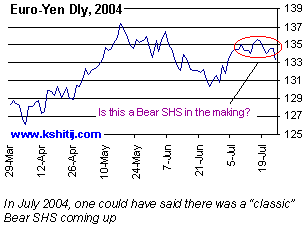 A common mistake
The Shoulder-Head-Shoulder is one of the most popular Reversal patterns in classical charting as it is visually appealing and promises handsome gains if read correctly. Sometimes, Chartists tend to make a common mistake in reading it though, as illustrated below:
The fault lay not in the chart pattern, but in the initial reading. A very important point to remember about SHS is that the profit objective from the Neckline is roughly equal to the distance between the Head and the Neckline. As such the previous trend should have been of a sufficiently long duration to accommodate the profit objective. Further, since the SHS is a Trend Reversal pattern (not a Trend Correction pattern), there should ideally be further room available (beyond the profit objective) for the new trend to perpetuate. These conditions were not met in this case of a "false" SHS.
The Charts aren't perfect, though
Of course, It does happen sometimes, that even a Classical SHS, meeting the conditions mentioned, does not deliver to its full potential, as seen alongside. The GBPUSD had developed a pronounced Bear SHS in Q1-04, with an ideal Profit Objective near 1.7150. Unfortunately, the low seen was only 1.7480 on 14-May-04, well short of the target.
Since Charting is not an exact science, the only way to deal with this would have been to employ a Trailing Stop Loss to protect Short positions. This is the realm of skilful Trading, an ability acquired with effort and experience.