08-Jul-17
Yen 113.87/ Nikkei 19929/ Gold 1212/ US-Japan 10Yr yield spread 2.31%
Recap:
In our Jun'17 report, Dollar Yen was expected to remain range bound in the 108-115 zone and neither of the boundaries was expected to break over Jul-Aug'17.

EXECUTIVE SUMMARY:
Dollar-Yen has risen in June from levels near 109.10 to test 113.70 on the upside within the 108-115 range. The pair could now move up towards 115-116 in July followed by a corrective dip towards 112-111.  A break above 115-116 later on is the preferred path thereafter.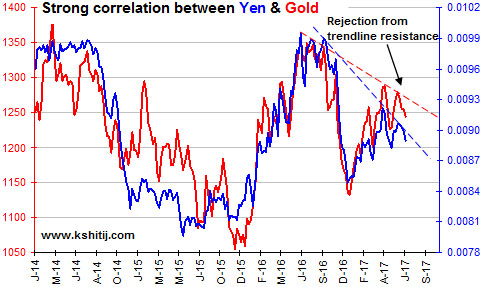 Yen & Gold correlation is Bullish for USDJPY
We are bearish till $1200 on Gold over the coming months. Given the strong directional correlation between Gold and Yen, weakness in Gold can lead to weakness in Yen.  The chart alongside shows that both Gold (LHS) and Yen (inverted USDJPY on RHS) have faced rejection from trendline resistances in line with our expectation in our June report. While the Resistances continue to hold, we could see some more downside in Gold and Yen towards 1200 and 0.0088-0.0087 levels respectively. A fall in JPYUSD towards 0.0087 could mean a rise in Dollar-Yen towards 115 (+ 2.20% from current levels)

Nikkei is bullish for USDJPY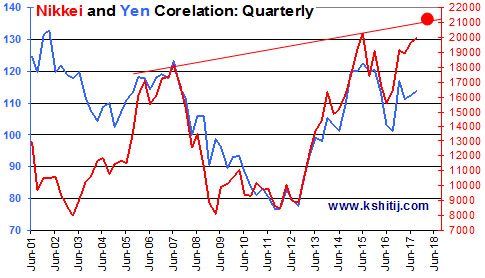 The Nikkei is rising to towards 21000 in line with our June report, looking potentially bullish towards 21000-21500 which could be tested over July-August'17.
A rise in Nikkei could also pull up Dollar-Yen also towards 115 and higher in the longer term given the strong directional correlation between the two. Thereafter, we could enter into a corrective phase but for the next couple of months, the trend is up.
Both the charts above indicate a rise in Dollar-Yen over July and August towards 115-116 levels from where a fall back towards 110 is possible. Overall the trend is up just now with movement within 115-110 likely to continue in the next couple of months.

US-Japan 10Yr Yield Spread: Near term bullish, long term bearish for Dollar Yen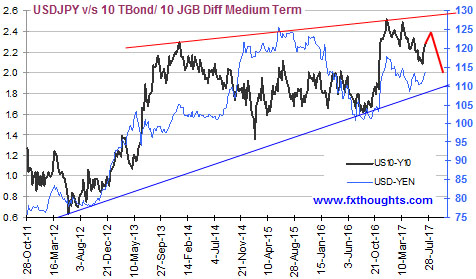 As expected, the US-Japan 10Yr Yield Spread (2.28%, LHS on chart alongside) has risen from support near 2.10% to current levels. The yield spread may continue to rally towards 2.33-2.35%% before coming off from there to test lower levels of 2%.
2% could be a significant level to keep an eye for the long term. A bounce back from 2% could still keep the upward momentum intact. The strong correlation between the yield spread and Dollar-Yen is likely to hold for the coming months too. 

Quarterly Projections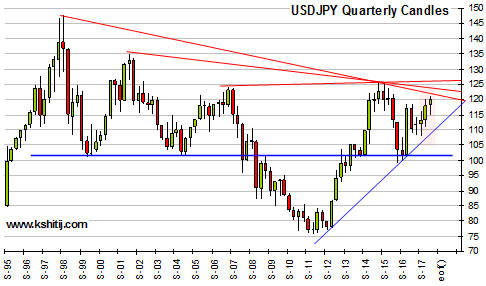 Dollar-Yen rose sharply in the quarter ending Dec '16 from support near 100. This was followed by a dip to 110.11 in the Mar '17 quarter. Thereafter the market dipped to 108.13 in April and has been ranged in 108.13-114.37 since then.

The current quarter could see another sharp rise towards 115-116, from where a further rise towards 120 might be possible. This is our preferred path. But, we would have to change this view in case we see a sharp rejection from 115.


Considering the larger picture, we look for a rise towards 120 over the coming 1-2 quarters as projected alongside and marked in dotted box on the chart above. Note that there could be an interim resistance near 115-116. But, only if we were to see a sharp rejection from 115-116 would we review our current upward bias towards 120.


Conclusion
Dollar Yen is likely to remain ranged within 115-110 over July-August, testing 115 in July before falling off towards 110 levels. Preference is of a break above 115 for the next quarter keeping a target of 120 but we will have to wait for price confirmation by end Aug-Sep'17. Till then we keep our near term view of testing 115 before coming off to 110 intact.