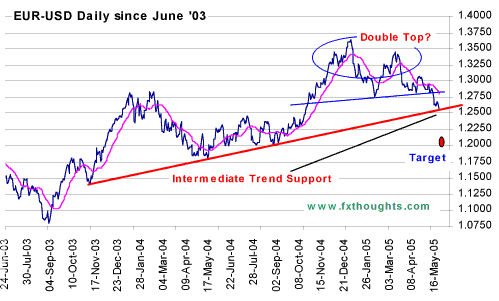 Series on Chart Patterns
Classic Double Top
It is not often that the market present a copybook example of a classic chart pattern in real life. The Euro-US Dollar traced a classic Double Top recently. We present here an article we wrote for the "Technical Analysis of Stocks and Commodities" magazine on 23-May-05 when the EUR-USD rate was 1.2585
Back in Jan-05 (please refer to "The Colour of Money" issue dated 12-Jan-05) the Elliot Wave counts on EUR-USD since 2002 and the 10 Yr Bund-Bond Yield Differentials together indicated that the Euro would fall.
The promise of the Jan-05 outlook had worked out correctly. Towards the end of May-05, the charts presented a compellingly bearish EUR-USD picture. There was a
Completion of a 5-Wave uptrend from Oct-00
Break of Trend Support coming up from Apr-02
Double Top created since Nov-04 with Tops registered in Dec-04 and Mar-05.
A Negative Crossover on the 200-day Moving Average
Not all at once
Even though the charts were bearish, the Euro was not falling further. One of the most intriguing facets of the market (as of life) is that even when technical targets are clearly known and set, they do not materialise immediately. The targets take time to come by. As Einstein said of Time, "The only reason for time (to exist) is so that everything doesn't happen at once."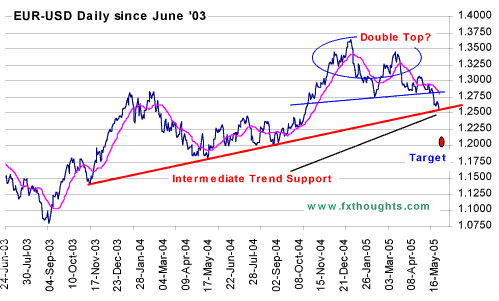 It takes time for the market to reach where it has to because it needs to overcome obstacles on the way, such as the one in shown in the chart alongside.
Although the big uptrend since 2002 had been broken, there was an intermediate Trend Support coming up from Nov-03. It provided Support just above 1.2500. This had to break for the target of 1.20 to be achieved.
The question was, could there be a small bounce to 1.27 before the trendline broke, in a case of "Reversal to Double Top Neckline" (the blue line in the chart above)? Or would there be a clean break of the intermediate Trend Support (the Red line)?
French Vote as catalyst
As it turns out, the French "No" vote to the Euro constitution, followed by the Dutch "No" in June proved to be a bearish catalyst, enabling the EUR-USD to break cleanly through the intermediate trend support shown above. As the market reacted negatively to the news, the Euro fell to eventually fulfill the 1.20 target suggested by the classic Double Top shown above.
A very satisfying Double Top and yet another shining example of how Fundamentals align themselves to prove the Charts correct!